Have You Listened to Wind City Techno?
Going with our Chicago campaigne, but before it, let's review on Chicago acid basics.

Far from Detroit techno, Chicago acid has no melody, no harmony and even no construction. Especially, songless 'tracks' have only rhythms and frameworks. It is poor... But if skilled DJ plays, it will be the greatest dance music of our history!

Beside, are Chicago acid techno or house? We could hardly say that 'techno' is a parasite. It had been parasitic on the corner of rock and roll scene when rock was active, and nowaday, it borrows styles of house music, and survives in dance music scene. Though they are both temporary forms, 'techno' has no real forms. Because techno is virus that consumes your heads and souls. When Chicago house artists were possessed by it, then they began to make acid house. Couldn't you realize?

Now, let us introduce the latest releaces from Chicago. Our favorite artist, Robert Armani's double 12' "Right To Silence" (ACV/DP006) is perfect. Someday , we will review his works in detail.

From Tension Records (Hollis NY), mysterious new face Kirlian (Abe Duque) appears. Though he might be not Chicago acidhead, his sound knock us out that is so strange. It has been exciting!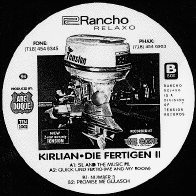 (43k, jpeg)


KIRLIAN "DIE FERTIGEN 2"
TENSION/TEN1002
Stupid '2 year warranted'
ship motor. Not danceable so,
but matured acid music

---

Back to vol.1 Contents

Next Page
Nogucci Harumi < MGH03372@niftyserve.or.jp >