Waiting for TECHNO WARS in Tokyo!
Is cyber-Chiba "an air pocket of time"? "Electrofectious Disease 002" on 10/10/1994 at "3rd Stage" in Motoyawata Chiba, they performed Joy division replica, amalgam of shopping mole jazz-rock & free jazz and ritual tribal female punk... Don't they know that it is 1994? I went to sick of difference of time.

To report its atomosphere, I quote from MC of "Bunga-Bunga" (a cute witch of punk rock).

"I've heared of a horrifying story. My friend had a dream of pursuing soap. She said 'I was so scared because I don't know what he's going to do if he catch me'."

Finally, techno, Chiba Rader appears. With poor analog sound of their magnificsecond-handed Made-in-Japan systems, a baseball capped strange guy sang supremely karaoke with belle-voce and shook his glomourous hip. They are luxating "Techno" and breaking bones of "Pop". Excellent. They have made a track that is going to be contain "Hyper Rich" label omnibus. We will report it on the coming issue. The promoter of this party is "Ga Raskaras" that are pretty boys' duo. Generate industrial noise (not techno) from electronic & phisical junks. However, they dared to say "we will pretend as techno to invite audiences." Oh! Furthermore, they really are going to appear on capitol "techno" parties.
---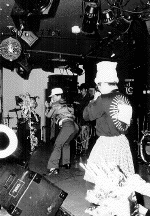 (37k, jpeg)

Chiba Rader. Remember, their recommended 
analog synth is 'Roland M-1'

---
Ga Raskaras are energetic, and they might make a new scene. But, what weakness of our "Tokyo underground techno" scene that would be invaded by them? Is there real techno guy on the earth, gets to shout "Damn!" and fight against them? Alas!
Following day, in this gloomy moods, went to "Tokyo great brain's mania #1" at On Air West Shibuya, they made my sickness worse with an appearance of terrific bad 'new wave' band...
However, on last act of this party, B-2 Dep't did their best performance since Feb 1994. And our old techno mania, from Disc Union Shibuya shop #2 (one of the Tokyo's hottest record shops) manager Mr.Nakano Yasuhiro, as an unit called "Adopted Son", performed adult oriented minimal techno. It was on house music format, but seemed to be influenced by early Cabaret Voltaire or Dome. it was very nice, but made us wonder that why they played Pink Floyd's record "Welcome to the Machine", before they start to perform...?
---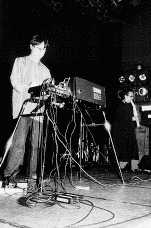 (31k, jpeg)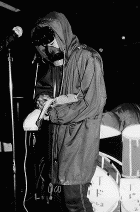 (20k, jpeg)

                         DAT Zoid. 'Flowerbed' hardcore 
                         terrifying Prodigy's status

---
Back to 8th Oct, "Hyper Rich label's Pulse #5:handicapped school of techno" at Shimokitazawa Yaneura, was full of lovely juvenile freaks of techno.
There appeared, DJ Narita Kozaburo, Medicine Case, Painter Sound System, Yuichi Oura, Reikyakudanbo (This name means freezing-heating), DAT Zoid and Dentak (calculator).
Hyper Rich is a group of the youngest & brutest techno combatants. They are remarkable. Let us introdece them.
First, Narita Kozaburo is the president of Hyper Rich label, and the craziest DJ of Tokyo underground. He mixes hiphop, techno, nursery songs, old popular shit and TV animation themes, and improvises them into loop with superb DJ technique. And sings and raps on his units that called Natsuko Uppercrast & Muscle Techno. On that night, as Muscle Techno, he sang old animation ('A Little Monk Ikkyu' & 'Mrs Turbo:Sazae San') theme rhymes along his original melodies and tracks. ...Ridiculous... And he dares to say "I was mostly infulenced by Hosono Haruomi (YMO, FOE, and the greatest producer of Nippon electro)." We think, he is lovechild of our supreme glorious Nippon electro pop scene. We love him.
Next, Medicine Case are trans oriented techno duo by blood brothers. On that night, they adopted a guest programmer Moyuru, and performed very well. They had been going to be so beautiful suddenly, might make themselves a new hero of this scene.
Painter Sound System are duo of DJs. DJ Hanihara (He is called DJ Honey) likes breakbeats techno, DJ Sakae Kohei likes happy trans, and both of them have fallen in love with Prodigy and computer games. They perform turntables of course, also multitrackers, synthesizers, and etc. On that night, DJ Honey plays Sega Megadrive (Sega Genesis) as sound effect genarator. Playing with these gadgets, they are going to make adolescent techno tracks.
Oura Yuichi has genious for techno music over than Ken Ishii. With Yamaha SY-99 (gorgeous digital synth), he makes beautiful tone, though he don't know Derrik May, it sounds like another 'Strings of Life'. Amazing. But, he don't believes in his genious. His favorite is KLF, that had been betraying music business machines and refused to be a hero. Oura renames his unit every month. He had been Nishikigoi till last week, now he is MK2 (mark2). This is results of serious considerance. He is not same as him of last week. Is he too young? Maybe, but I believe that he will be the greatest techno wizard on this earth.
Reikyakudanbo is a hardcore cyberpunk trio that includes Oura Yuichi. Since their songs are too short (average 30 sec.) and their repertoires are few, they performe stand-up comedy between songs. Oura writes the scenario, and he needs a month to do that. The titles of the songs that they sang on that night are 'Orbital' & 'Kraftwerk'. Worst noises of digitally sampled guitars & electronics.
Dentak is an duo of Okubo Tetsu and Sakae Kohei. Its sound is egoistic mixtures of brilliant Nippon electro pop, punk rock & ragga. Okubo says that he is a rock'n'roller, but he doesn't play guitars. Synths and samplers are arms of his childish electro war songs. It sounds like a crash of clashing Kraftwerk with reggae. Clash is his favorite band. And he writes splendid melodies like a way that only Mozart did.
Along such funny tracks, Okubo sings "We are cosmic Presley, going to make a monopoly of sandbox tomorrow, men supposed to take sailor suit with no words (comment:in Nippon, sailor suit is schoolgirl's uniform. Therefore it is a symbol of Lolita complex. And they say that 90% of men are 'Lolicom' in Nippon, so I am too), shouting and running around the schoolyard 50000 times, bitch, bitch, beach of son of a bitch, baby baby, I'm a little baby, but also called 'dad', because I am Mr Q if I die, and eat mostly chocorates, so we are grade 3,would like to watch the galactic swimwear show, hey-hey-hey, girls from anus, I love you, fuck fuckin' destroy, shall I tell you the secret of ladiesroom"
Too crazy, far ridiculous... He breaks the order of Logos by abusing words, and shouts "destroy!" to destroy preconceived ideas. Such as techno music have destroyed faith in technology by abusing cheap banal technology badly. He has great love, and he has been scattering and pouring it, and he doesn't care whom it strikes. Oh...
On that night, Dentak's performanse satisfied us. Their usage of TB-303 (acid machine) is unuque. Funny, laughable, but positive and emotional, Dentak is.
DAT Zoid, Yoshida Hito's 'flowerbed' hardcore 'ridiculacid' unit, great. On that night his performance made us...but we would like to introduce it on forthcoming issue with his latest video package. Stay tuned.
Hyper Rich have released their 1st sampler CD in May 1994. It is beautiful, however, never sounds like today's Hyper Rich. Because they are progressing day by day, remember, they are so young (Their youngest combatant is sweet little sixteen, Hirakawa Takeshi of 'Cuebase' that is Nintendo oriented childish MSX techno duo). Their socond sampler will be released at Jan 1995. It will be the worst bug since our noted Nippon electro scene was began.
---

Back to vol.1 Contents

Next Page

Nogucci Harumi < MGH03372@niftyserve.or.jp >