Weired BEST10 of New Hero!
In Nippon club music magazine "REMIX", serially appearing Suzuki Keiko's London report is cool. In October issue, she interviewed Dave Clark, and Novenber, she meeted Luke Slater whom our magazine noticed last issue.

There appears his latest DJ best 10. K-Hand, Jeff Mills, Eddie 'Flashin' Fawlks...oh, his taste is same to ours ,we misunderstood. So we bought unfamiliarrecords on his best 10, then...

First, Mike Dearbone ranked No.9, is Chicago Acid from Djax-Up. Though we would like to want him more wit, but B side is great.
---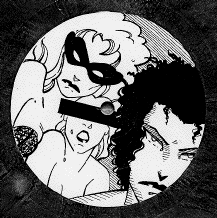 (60k, jpeg)

MIKE DEARBONE "UNPREDICTABLE" 
DJAX-UP-207
Like Dave Clark, his music sounds 
like Armani that remodeled much heavier .

---
And the top of his best 10, DBX's "Losing Control"(Peacefrog/PF022) is explicitly strange "ridiculacid". So it is too strange, checked credits, we learned that it was made by Daniel Bell. He is notorius by Cybersonic (+8). Impossble, our old mad doctor manufactures acid illicitly... Especially, B side is far strange. We can't help to love it! Hey Luke, what kind of DJ are you? So strange.
Now then, among Luke himself's records, "ridiculacid" as Clementine (Djax-Up-170) is interesting. Two albums under the name of "7th Plain" we bought, are , are . So we, techno mania magazine, have nothing to complain about them. Anyway, stick to it, Ms. Suzuki Keiko! La-la-la.
---

Back to vol.1 Contents

Next Page

Nogucci Harumi < MGH03372@niftyserve.or.jp >