STRENGTH + UNITY
We will be the ROOTS of you,Mad Mike.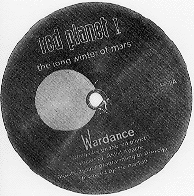 (12k, jpeg)

RED PLANET 5 "THE LONG WINTER OF MARS" RED PLANET/RP-5
This is a deep techno lament. Tired to fight? 
Anyway, we will fight together untill you totally break.

---
We love 'ridiculacid' so much. But listening to Mad Mike Banks' "Acid Rain", in the first 3 seconds, realize that is incomparably stronger. He is really mad. "Acid? Poison from above? Air pollution? Blockheads!"
But he does not care about "ecology". He is mad about polluted his body. When woods, lakes and cities are polluted, he feels their pain and mourning as his. and he scatters and bangs the passion in techno!
Why don't you be angered little more?
Further, why don't you be angered with completely positive attitude?
Real techno does not care about "future". It occurs presence of absolutely "present". Mad Mike's latest works "Red Planet 4&5" are, of course, really kind of that.
Beside, the latest issue of "UR" artist is Drexciya4's double 12'pack "The Unknown Aquazone"(Hyper Space/SVE3). He turns his style with each releaces. Before buying it, we have decided that if it was dull, we would never buy Drexciya's. But listening to it...oh! it is PIKIPIKO techno! So cute!
---

Back to vol.1 Contents

Next Page
Nogucci Harumi < MGH03372@niftyserve.or.jp >