AN EARLY BIRD
Speedy J came to Nippon, and performed live
Oct.1st,ManiacLove Tokyo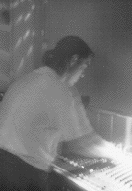 (10k, jpeg)


Fumbling with knobs, he looks like sweet
little bird, though he is big and tall.

---
ManiacLove is one of the coolest clubs in Tokyo, and Suturday night "Sublime" is the hottest techno party.
This night, Speedy J (Jocem Paap) performed live, by twiddling mixing console's faders, runnning his multitracks and sequencer.
Starting with slow tune, his performance was puzzled Tokyo's technoheads for a little while (since they had heated up with DJ's foreplay). But beats came in, beautiful electro sounds flow upon it, Tokyo raptured his music. Feelin' good! The performance was seemed to us too short (about 50 mins).
He is big and tall, but twiddling console, he gesture was looked like a pletty singing bird. Tweetee, pee. This is what we love.
After shows, we give latest issue of Digital Biscuit to Speedy J. Then he smiled and said "Magazine?" Then plunked our magazine in his mouth (gestured like a little bird) and started to change his cloths. Futhermore, posed for taking photos gladly. Really nice boy! Prince of Netherland techno. Thank you, Jochem! Tweetee!
---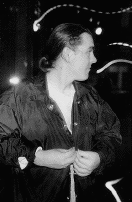 (17k, jpeg)

Netherland's prince Speedy J. 
Profile cute. klick!

---

Back to vol.1 Contents

Next Page
Nogucci Harumi < MGH03372@niftyserve.or.jp >