A FLYING DUTCH GIRL
SPECIAL FEATURE : DJAX-UP-BEATS (summery)
---

(20k, jpeg)

"THE WAREHOUSE REMIXES" DJAX-UP-CD4
  Remixes of Chicago acid's legendary 
number. Exelent for beginer's guide. 
Especialy, "Altered States" remix by 
Armando is extremely lurid acid battle 
of two Chicago giants.

---
Netherlands = tulips, windmill, Western medicine (it was introduced to Nippon by Netherlanders. "Netherlandology" = "Western Science" in Edo era.)...and also TECHNO.
---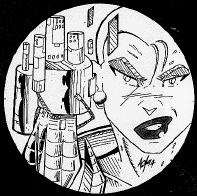 (48k, jpeg)

DJ Skull "MET 'L' GEAR" DJAX-UP-201
  We are sick of Djax, about DJ T-1000's 
shameful crazy illustration. This is 
bearable one. But DJ Skull is real Chicago 
acidhead. His is good.

---
Gabba (Rotterdam), Speedy J (started his career in gabba, but had taken off) , Fresh Fruits (Amsterdam)...various, and we especialy love Djax-Up-Beats (Eindhoven, south of Netherland), and its president Saskia Slegers (Miss Djax).
From 1989, releacing Europe's artists,she introduced real Chicago acid to Eu rope. Djax army and legendary Chicago acidhead (Robert Armani,Armando, Mike Du nn and Ron Trent!) were fallen in love each other. They submitted "the Warehou s Remixes".
Stimlated by Saskia, Chicago scene heated up. And also bright new faces emerged. Paul Johnson, DJ.Skull, Phase Phorce...etc.
By now, seqeuncialy "acid revival" by Richie Hawtin and Hardfloor, original Chicago acid are reviving world wide. In Nippon, we Digital Biscuit is accelerating it. but mostly, Saskia distinguished service to "Chicago acid revival".
Not only Chicago acid, Djax is correcting incredible new forces from whole world. Like A Tim (Netherland), Clementine (England), amazing Purple Plejade (Deutscheland), Storm from New York ! (we are going to review him), and etc. The Earth is quaking by Djax's wild dance beats! GO-GO! We love Saskia!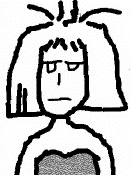 (19k, jpeg)


  Against Andy Aldham (T-1000), we 
tried to draw Saiskia's portrait... 
Nothing to say about this.

---

Back to vol.1 Contents

Next Page
Nogucci Harumi < MGH03372@niftyserve.or.jp >