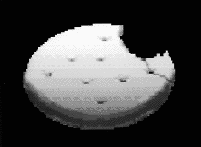 (9k, jpg)
DIGITAL BISCUIT
last update Dec 29, 96
We are going to introduce Nippon's craziest,underground,and exciting techno artists,DJs,club scene,and foreign Artist's popularity+activities in Tokyo,on this network,worldwide. One world,one techno tribe.now's the time!
---
WELCOME TO DIGITAL BISCUIT
"DIGITAL BISCUIT reinforced " is online+international version of Tokyo under ground techno monthly paper "DIGITAL BISCUIT(digi-bi)" founded '94/03/25.
It is not public relations, but private relations. We love techno, and we report our favorites. That is all. We do not sponsored. No strings (only strings we like are 'Strings of Life'), but selfish. We have things that wanted to be told.
---
OUR CREDO
Underground techno are 'real pop'(pop = people's music). So called 'pop music' are only commercial counterfeits.
Once, in 60's, a few labels such as Motown & Atlantic (and so on) had created real pop. They had been regarded as childish bubblegum pop songs, but they were experimental & emotional. Go back further, Mozart wrote his music as a aristocrats' pastimes. Gren Miller orchestra, too, regarded as only a 'dance band'. But they were real pop. And now, commercial producers, appropriating techno's tools (computers + synths), are reproducting + imitating vintage real pop's figures. That's only a fake. We are sick of it all.
Our undergroud techno combatants have few words. Without bragging, they have been creating contemporary real pop, as only a 'dance music'. We love it. House, hiphop, they are blood brothers of techno. Their father is Kraftwerk, and their mother is black music. Real techno have been being emitted from the laboratories that were amalgamated with ghetto. There we are, too. Here we go.
This is DIGITAL BISCUIT from Tokyo underground. Please bite and taste it. Lo w fat + digestive, electronic + healthful.
DIGITAL BISCUIT reinforced vol.2.5 is delivered here .
DIGITAL BISCUIT reinforced vol.2 is delivered here .
DIGITAL BISCUIT reinforced vol.1 is delivered here .
(DIGITAL BISCUIT INTERNATIONAL) OCT.1994
---

Vol.26 (in Japanese)

Vol.25 (in Japanese)

Vol.24 (in Japanese)
back number : Vol.23 / 22 / 21 / 20 / 19 / 18 / 17 / 16 / 15 / 14 / 13 / 12 / 11 / 10 / 9 / 8 (in Japanese)
---
Talk To Us!
Click here to feedback!
---

Back to Homepage
note :
all textz are basically written in puninglish. it'z a far neater and fresher language than old english. kool
thanks and respects to all the underground electronic headz. we're less than nothing without you
Nogucci Harumi < MGH03372@niftyserve.or.jp >
---
All HTML by Taishi Ichinose < r92005ti@popura.ces.kyutech.ac.jp >